Muslims surpass atheists as most hated religious group in America, according to new study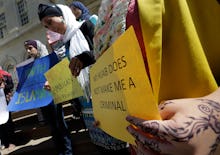 We now have even more evidence that Islamaphobia has gotten steadily worse since 9/11. 
In fact, Islam has recently become America's most distrusted religious affiliation, overtaking atheism according to a new paper by researchers at the University of Minnesota and published in Social Forces.
Initially, the authors behind the study hadn't set out to measure racism against Muslims. Rather, researchers Penny Edgell, Joseph Gerteis, Douglas Hartmann and Evan Stewart intended to study attitudes toward the non-religious and religious outsiders. 
But upon examining the study, Religion News Service noticed and addressed an alarming piece of data: In the last 10 years, Muslims have overtaken atheists as the most distrusted ideological group in America in a drastic shift that required a pretty large change in sentiment. 
In 2003, when were asked to agree or disagree with the statement "This group does not at all agree with my vision of American society," 39.6% of respondents agreed when atheists were the subject in question; 26.3% of respondents agreed when the same statement was posed about Muslims. 
In 2014, the responses about atheists grew slightly to 41.9%; for Muslims, the number skyrocketed to 45.5%. 
The data came from 2014's Boundaries in the American Mosaic survey, which tried to replicate a 2003 study called the American Mosaic Project that measured American attitudes toward various religious and ethnic groups.
Researchers found that "anti-atheist sentiment is strong, persistent, and driven in part by moral concerns about atheists and in part by agreement with cultural values that affirm religiosity as a constitutive moral grounding of citizenship and national identity."
In other words, Americans have moral objections to atheists, yes — but they also believe that having some sort of doctrine makes you a moral person. 
Unless, it would seem, that religion is Islam.