'Moonlight' star Janelle Monaé, director Barry Jenkins and more talk about identity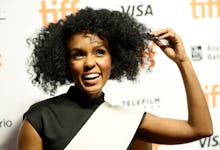 TORONTO — One of the critical darling films at the Toronto International Film Festival this year, Moonlight, contains a narrative seldom seen in film: a gay African-American man on a journey toward self-acceptance. The film is vital and timely, and luckily has been given a proper showcase.
Moonlight is based on the play In Moonlight Black Boys Look Blue, written by Tarell McCraney. McCraney worked on the screenplay with Jenkins, who credits McCraney for the film's authenticity.
"These characters could not have originated just with me," Jenkins said in an interview at TIFF. "I felt comfortable merging my world view and my voice with Tarell's work. I knew these characters growing up; I saw them every damn day, and it was about doing justice and giving a voice to these men."
The film is told in three parts, taking the audience through the life of a man named Chiron. The audience is able to grow with him as he learns about himself and his sexuality, starting with the film's first segment in which he goes by his childhood nickname "Little." 
One of the film's themes is the maternal figure in a child's life. Teresa, played by Janelle Monáe, becomes a maternal figure and is imperative in Little's self-acceptance. In one of the film's poignant scenes, she is part of an honest discussion about Little's sexuality and what it means to be gay.
Monáe grew up with people similar to Teresa, and like Jenkins, wanted to give justice to them. To her, Teresa was the young cool aunt in the neighborhood you could go to because they would always listen to you. "You see these characters as human beings with layers and with nuances," she said in an interview about the film. "I realized I knew these people. And, immediately, nurturing came to mind for me."
Throughout the film, people come to Chiron's aid to help him with his journey toward self-acceptance. André Holland, who plays Kevin as an adult, a vital character in Chiron's sexual awakening, worked with McCraney on a number of plays and was familiar with his characters as an actor. 
"Tarell does this thing with his writing that's really about looking at the way people change and take care of one another, which is something we don't often see in our community," Holland said in an interview.
In the film, Little struggles early on with his identity. He's ridiculed for being "feminine," as he prefers to dance rather than play sports, which touches on a through line of the film — the issue of masculinity in both the African-American and gay communities.
"We live in a world that brings black boys up hard," Jenkins said. "Trying to bring that on screen in a responsible way was important."
For Monáe, it seems Moonlight was a special project. "We know these people, but their stories had not been highlighted in a way, a smart way, like Barry had done," Monáe said. "[He] shed the moonlight on it."