An Iowa basketball team's super racist poster is going viral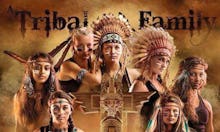 You have to wonder who signed off on this. 
After KCCI sports-anchor Andy Garman shared Clarke High School's woman's basketball team's incredibly offensive — although admittedly well-produced — team photo, it quickly began making the rounds online. 
You can see why.
The photo includes a litany of offensive Native American cliches, enough that it's hard to decide on which is the most foolish. None of the woman involved are reportedly Native American. 
Activists are obviously upset. 
"Everything that I saw on the poster does not in any manner depict Native American women and that's the sad part," Vicky Apala-Cuevas of the Oglala Lakota tribe, told KCCI. 
Deadspin's Nick Martin managed to track down the photography studio behind this oeuvre, Ben Shirk of Shirk Photography in Wilton, IA, who seemed confused about what all the hubbub was about. 
"If I was a Native American — I feel there was no disrespect intended. It was done to be a unique and fun poster," he told Deadspin. 
Similar sentiments were echoed by the Steve Seid, the school district's superintendent, although state authorities have apparently already taken notice of the offensive image and it has not been distributed. 
They're open to feedback, Seid told KCCI, and apparently the team itself didn't have anything to do with the poster, aside from having an unfortunate mascot. 
Maybe now would be a good time to revisit some of country's other numerous and dubiously-named athletic organizations.