Fifth Harmony's Camila Cabello pens revealing personal essay on immigrating from Cuba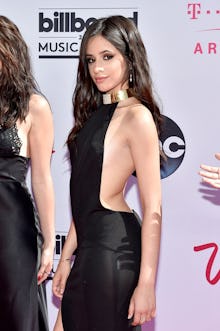 Fifth Harmony's Camila Cabello has shared her family's experience legally crossing the U.S. border from Cuba, revealing the lengthy, arduous process can be no less daunting than entering the country illegally — especially for a child. 
The 19-year-old detailed exactly what it was like when she and her mother left her father behind to seek new opportunities and find new hope in the American dream. Her story — published in a personal essay on PopSugar — is one of the most detailed accounts of crossing the border a mainstream pop star has shared in modern history. During an election season where xenophobia has run rampant, her humanization of immigrants comes at the perfect time: "When anybody wants to tell you they want to build a 'wall' on our border, remember behind that wall is struggle, determination, hunger," Cabello wrote. 
Cabello was nearly 7 years old when her mother told her, "I don't know where I'm going, but I can't stay here," according to her essay. The two picked up their lives, left their friends and family behind without any tangible prospects in America and stayed in a small room in an immigration office for a day with multiple families, as they awaited a decision as to whether they'd be allowed into the country. Some families are forced to wait weeks, Cabello noted.
The United States has long provided certain advantages for Cuban immigrants entering the country, following the fall of the Fulgencio Batista regime in 1959. Congress passed the Cuban Adjustment Act seven years later, allowing Cubans to establish permanent residency after living in the country for just one year. By the 1990's, Cuban immigration was booming, forcing Congress to establish new accords that added red tape to those trying to enter the country over international waters and occasionally barring entry to immigrants not fearing persecution in their homeland. 
Cabello and her family came to the United States just after those accords were passed — and their experience was no less harrowing. 
After extensive paperwork and a 36-hour bus ride, Cabello and her mother arrived in Miami, a mecca for the burgeoning Cuban-American immigration phenomena. 
"My mom was a very good architect in Cuba, but when she came to America none of the degrees she earned in Cuba counted, so to make enough to keep us fed and put me into school she began stacking shoes in Marshalls and going to school at night to take courses in English, all while taking me to and from school and helping me with my homework all by herself, alone in a strange country," Cabello wrote. "I can't imagine how frustrating it must have been for her to have worked her whole life in architecture and then have it all erased when she came here."
Eventually through her knowledge of architecture and a chance encounter, Cabello's mother was able to afford their own apartment. Her father eventually risked his life to cross the border and be with his family. The singer describes the shared never-ending dedication to life and prosperity among immigrants as "hunger."
"The hunger to do the impossible because you have no choice, because you came too damn far, because you've known what struggling is, and you're not going to take an opportunity for granted," Cabello wrote. 
"I am so proud to be Cuban-Mexican. This country was built on immigrants. People who were brave enough to start over. How strong we are to leave behind everything we know in hopes of something better. We are not fearless, we just have dreams bigger than our fears."
Read the full essay on PopSugar.