Racism, media bias caused gay man Bayna El-Amin's 9-year prison sentence, advocates say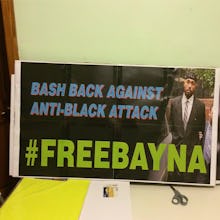 If you ask activists and advocates who worked on behalf of Bayna-Lehkeim El-Amin, a gay black man who received a nine-year prison sentence for a May 2015 altercation at Dallas BBQ in New York City, the structural barriers between El-Amin and justice were too great to overcome. 
"It's so many things that came together to make this happen," Mitchyll Mora, one of a handful of activists who worked on El-Amin's behalf, told Mic. "And this happens to queer black people all the time. Communities are being railroaded into jail."
El-Amin was convicted of low-level felony assault with a gay white couple, in which the defendant said he was acting in self-defense. The first images of the incident came from a video that starts midway through the altercation, in which El-Amin strikes Jonathan Snipes over the head with a chair. The video, shot on May 5, 2015, was posted online only hours after the assault between El-Amin, Snipes and Snipes' then-boyfriend Ethan York-Adams. The video showed a large black man — El-Amin is 6'6" and almost 300 pounds — harming two smaller white men.
But this video is one of the early signs that El-Amin's case was doomed from the start, advocates and activists told Mic. In the months leading up to the trial, many supporters worked to counter a media narrative they say depicted El-Amin as an aggressive black man who preyed on two white men. Racialized media bias and inadequate defense, they say, led the jury to convict El-Amin and the judge to dole out a harsh sentence. 
Mora is one of a handful of activists who worked to defend El-Amin on the grassroots level. He is part of Freedom2Live, a support network for trans and queer people of color who are currently incarcerated or face prison time. Mora and other organizers sent more than a dozen letters and made an online petition, which garnered over 1,500 signatures, asking the judge for the lightest sentence possible. He also shared several images of flyers and posters he had created in defense of El-Amin with Mic.
One poster contains a quote from the trial transcript in which El-Amin's lawyer says that no witnesses present for the altercation corroborated Snipes' claim that El-Amin called them gay slurs. 
Another reads "bash back against anti-black attack." 
Mora said El-Amin's sentence is the result of multiple systems that fail poor, black people. Disparities among racial lines specifically apply to the district where El-Amin was being tried in court. A 2014 study by the Vera Institute of Justice showed that sentences for blacks and Latinos have gotten harsher under Cyrus Vance Jr.'s tenure as the Manhattan district attorney, who presided over the case.
Within New York City, racial disparities clearly do exist when it comes to sentencing for assaults that involve gay black men. In August, a Brooklyn judge sentenced two Hasidic men who beat up a gay black man and left him blind to 150 hours of community service for their crime. 
More broadly, as some studies have shown, media bias against black men can enable judges to hand out harsher sentences. In 2013, a study by the U.S. Sentencing Commission found that black men received sentences that were nearly 20% longer than white men for the same crimes, the Wall Street Journal reported. Those same attitudes often paint black men as violent criminals in media, regardless of whether they're engaged in criminal activity. He was also represented by a court-appointed lawyer, which often spells trouble for defendants who can't afford their own.
However, the judge was unwilling to say that race played a factor in this event or the subsequent reaction. 
"I know you want to cast this as an issue about race," Judge Arlene Goldberg said, according to the New York Post. "I just do not see that there is any evidence of that. When you picked up the chair, that was a criminal act, that cannot be excused."
But advocates said, that statement leaves out much of the full picture. The day after the incident, as Gay City News reported, Snipes told the media about the attack without disclosing that he began the fight. Later in his testimony, he said that he hit El-Amin with his purse, beginning the altercation because he believed that someone called him and his boyfriend "faggots." The Gothamist labeled the attack as an alleged gay bashing. Local politicians like City Council Member Corey Johnson and state Senator Brad Hoylman posted up outside Dallas BBQ and called the fight a hate crime.
"These guys attacked us specifically because they knew we weren't their type of people," Snipes told DNA Info.
It wasn't until some weeks later, in an interview with G-List Society, that El-Amin was able to defend himself in the media. In the interview, he described being hit hard with a blunt object. Later, in his testimony, he said: "This incident was started by...two drunk, white men that felt they were entitled to come and swing at me for no reason," the Gothamist reported. 
Media bias continued throughout El-Amin's case, as news reports played into hyper-aggressive, dehumanizing portrayals of El-Amin. In a write-up of the conviction in May, the New York Daily News described El-Amin as a "hulking brute." In their description, they failed to report that El-Amin was a person with a history of activism in the queer community. That he was an HIV/AIDS counselor and active in New York City's ballroom community. But rather than paint him as a queer black man, media reports stripped him of his queerness and painted this as an altercation between two white gay men and a brutish black man. 
Jason Lydon, the community minister at queer prison abolitionist group Black and Pink, called the judge's sentence "outrageous." He said in a phone interview that he sent a study to the judge that demonstrates how the decision to incarcerate El-Amin may actually perpetuate more violence. In "Coming Out of Concrete Closets," Black and Pink shows the high rates of violence LGBTQ prisoners face.
According to the report, 64% of incarcerated LGBTQ respondents surveyed said they experienced physical assault, while 31% experienced sexual assault or rape. Of those 31%, 76% say they were placed at risk by prison staff. Rather than curbing violence, the decision to incarcerate El-Amin may actually perpetuate more violence. 
"The judge is perpetuating the long-held racist presumption that black people are not allowed to defend themselves against white violence, a cultural belief that stems from chattel slavery," Lydon said to Mic. "The judge is culpable for any violence that Mr. El-Amin experiences in prison."
Mora says that El-Amin plans to appeal his sentence, but that El-Amin and advocates are aware that an appeal may not be granted. 
Timothy DuWhite, an artist and advocate who was present at the sentencing, called the entire trial "mind-boggling." DuWhite wrote a long Facebook post after the sentencing in which he described his feelings after seeing El-Amin go to jail for defending himself. 
"This terrifies me, because right now as I write this I know that if a white man were to put his hands on me or try to harm me in anyway, I too will exhibit anger that 'crosses the line,'" DuWhite wrote.