Jimmy Fallon interviewed Donald Trump, messed with his hair, and the internet is pissed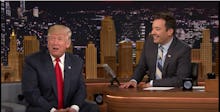 Donald Trump made another appearance on The Tonight Show Thursday with host Jimmy Fallon, where Fallon and his cackling faux laugh treated the Republican presidential candidate to an interview with the type of substance — or lack thereof — you'd expect from the king of clickbait fodder. 
They talked about Fallon's impression of Trump; Trump's fast-food eating habits; a mock job interview for being commander in chief; and, in the most thrilling turn of events, Trump let a gleeful Fallon ruffle up his hair at the end of the interview. 
Among Fallon's more hard-hitting questions, he asked Trump about his relationship with Russian leader Vladimir Putin, which has been a persistent point of criticism for the real estate mogul. But a reserved Trump — who earlier in the interview said he didn't want to say anything shocking — struck a different tone than the one he had with Matt Lauer.
"Well, look, I don't know him, and I know nothing about him, really," Trump said, of Putin. "I just think if we got along with Russia, that's not a bad thing. The Democrats try to say I like him somehow. I don't like him. I don't dislike him. I don't have any feelings one way or the other. And it's not going to matter what he says about me. If he says good things or bad things about me, I'm going to make great deals for our country."
But Fallon's questioning, like Lauer's widely criticized moderation of the Commander-in-Chief Forum, unwittingly allowed Trump to spin his own numbers. Trump — speaking about the outpour of love he's getting from supporters — noted that he's leading Hillary Clinton in the now-traditionally liberal Colorado polls, despite evidence to the contrary.
Granted, Fallon isn't a journalist and hosts a late-night show; comedy is expected. But his late-night counterparts — whether it's Seth Meyers' "A Closer Look" segments, or the repeated bits from Samantha Bee, Stephen Colbert, John Oliver and Trevor Noah calling out Trump for his hypocritical and hateful rhetoric — are a stark contrast to Fallon's wisecracking.
Put simply, Fallon's interview with Trump was soft and oft-friendly — even by late-night standards. In response, many viewers took to Twitter to express their displeasure with Fallon's treatment of the Republican candidate. 
You can check out some of the clips from Trump's visit to The Tonight Show — including the infamous hair ruffling — below: