Megan Rapinoe protested the national anthem again, and US Soccer is really not happy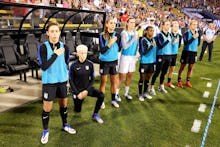 U.S. Soccer made its displeasure known after women's national team star Megan Rapinoe kneeled during "The Star-Spangled Banner" before an exhibition game against Thailand Thursday night.
It was Rapinoe's first time making the demonstration while wearing a Team USA uniform, according to Deadspin. The organization's statement reads:
Representing your country is a privilege and honor for any player or coach that is associated with U.S. Soccer's National Teams. Therefore, our national anthem has particular significance for U.S. Soccer. In front of national and often global audiences, the playing of our national anthem is an opportunity for our Men's and Women's National Team players and coaches to reflect upon the liberties and freedom we all appreciate in this country. As part of the privilege to represent your country, we have an expectation that our players and coaches will stand and honor our flag while the national anthem is played.
The statement seems to imply that athletes should use the anthem to reflect on the "liberties and freedom" the United States provides while temporarily ignoring the ways in which that freedom is distributed unequally. It also declines to mention that one of the defining features of that freedom is the right to protest its shortcomings.
But lately, a number of athletes across the U.S. have called bullshit: Rapinoe started kneeling during the anthem this month in solidarity with Colin Kaepernick, the black San Francisco 49ers quarterback who began protesting the song in August.
Kaepernick's protest has since been joined by at least 14 other NFL players, as well as other athletes, both professional and non-professional.
"I am not going to stand up to show pride in a flag for a country that oppresses black people and people of color," Kaepernick said, via NFL.com. "To me, this is bigger than football and it would be selfish on my part to look the other way. There are bodies in the street and people getting paid leave and getting away with murder."
Rapinoe, for her part, has been consistently vocal in her support of Kaepernick, decrying the backlash he has received from fans, critics and former athletes.
"I am disgusted with the way he has been treated and the fans and hatred he has received in all of this," Rapinoe told ESPN. "It is overtly racist: 'Stay in your place, black man.' Just didn't feel right to me."
Rapinoe has also alluded to her own past conflicts with the anthem — particularly in light of the U.S. Supreme Court only recently affirming Americans' right to same-sex marriage with their Obergefell v. Hodges decision in June 2015, and the myriad other disparities facing LGBTQ individuals.
"[Quite] honestly, being gay, I have stood with my hand over my heart during the national anthem and felt like I haven't had my liberties protected," she told espnW, "so I can absolutely sympathize with that feeling."