Xbox Scorpio release date, price and how it stacks up to the competition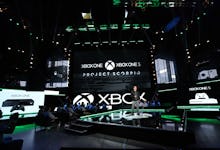 Project Scorpio, dubbed "the most powerful console ever," is Microsoft's latest foray into an increasingly crowded console market. The new Xbox system was announced at the Electronic Entertainment Expo this past June and is poised to make a splash when it arrives in 2017. But when exactly will that be, and how much will this shiny new Xbox cost? 
Here's what we know so far:
Release date
No specific release date has been announced at the time of writing, but Microsoft has confirmed the Xbox Scorpio will arrive "holiday 2017." That lines up a release for next year's holiday season, perhaps as early as Black Friday in late November 2017. 
Price
Again, Microsoft is mum on specifics when it comes to price, but it's safe to assume the Xbox Scorpio will cost at least $300. Microsoft's latest console offering, the Xbox One S, currently runs for $299 and has significantly less performance power than what's being promised for Project Scorpio. 
Wedbush Securities analyst Michael Pachter recently told GamingBolt that he expects Microsoft to market the Xbox Scorpio for over $300 thanks to Sony's decisively competitive price point for the upcoming PS4 Pro, which is retailing at $399. "Ideally, Microsoft can launch Scorpio for $299, but I don't expect that to happen," Pachter told GamingBolt. "If PS4 Pro is $349 by next holiday, Microsoft is really in a tough spot."
How the Scorpio stacks up to the competition 
Microsoft's bold declaration of the Xbox Scorpio's power seems justified. 320 GB of memory bandwidth, 4K resolution for video and games, virtual reality compatibility and the thing that really has people excited — six teraflops of graphics processing performance. 
In layman's terms, "flops" are a unit to measure processing power, and "tera" translates to a trillion. So the Xbox Scorpio supposedly does six trillion flops, which is certainly a lot. To put that in perspective, Polygon notes that the most powerful video card available, the Nvidia GTX 1080, does 8.9 teraflops. And how about the Xbox Scorpio's direct competition, the PS4 Plus? Just 4.14.