Could Democrats take control of Congress in 2016? Here's what would have to happen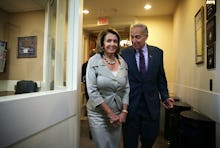 With Republican control of the Senate in doubt, some have begun to wonder if Democrats could also seize control of the House. Polling has Trump in trouble in traditional Republican strongholds, and if he drags Republican politicians down the ballot, it could help Democrats shave off the GOP majority. 
The main obstacle: the GOP majority in the House is substantial, and victory in several tight Senate races is not a lock for Democrats. 
Of the 435 House seats, 246 are controlled by Republicans. Through a combination of low voter turnout, gerrymandering and a strong ground game, the GOP substantially expanded its House majority in 2014. For Nancy Pelosi to unset Paul Ryan as Speaker of the House, Democrats need to flip 30 seats. 
That would be a substantial electoral feat but it would not be unprecedented. In 2010, Republicans won more than 60 House seats to win the chamber and install John Boehner as Speaker.  
The problem for Democrats is they are not expected to have that historic of an election. And because the GOP swept into control of many key state legislatures in 2010, Republicans redrew House districts to benefit their candidates. 
Because of this, the House is not as competitive as it used to be. Cook Political Report only rates 17 races as highly competitive. Sabato's Crystal Ball rates 16 races as "toss-up." Even if the Democrats won all these races and outperformed most projections, they would not take the House. 
On the Senate side, Democrats have a better chance at retaking the upper legislative chamber in DC. Without the help of gerrymandering and the pain of multiple Republican senators running for reelection in traditionally blue states, Democrats could hope to pick up three or four seats in November. 
But knocking off GOP senators John McCain, Marco Rubio and Rob Portman seems highly unlikely. And Republicans in Indiana, Pennsylvania and North Carolina are highly competitive with their Democratic opponents. As Trump's poll numbers have improved, so have those of GOP Senate candidates. 
The takeaway: It's still too soon to predict with certainty whether Democrats will retake Congress. But Democratic chances seemed much higher a month ago than they are now.