Dalai Lama tells European Parliament there's no such thing as a "Muslim terrorist"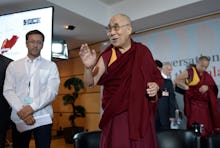 In the wake of numerous terrorist attacks perpetrated and inspired by ISIS, there's been a disturbing rise in Islamophobia; GOP presidential candidate Donald Trump has even called for a "total and complete shutdown" of Muslims coming into America. Of course, conflating Islam with terrorism is unfounded and irrational: ISIS only accounts for an estimated 0.00625% of the global Muslim population. 
In fact, according to the Dalai Lama, perpetrators of such violent acts aren't Muslim at all. Speaking to the European Parliament in Strasbourg, France, Thursday, he argued those orchestrating terrorist attacks are fundamentally at odds with Islam. 
"'Muslim terrorist': That wording is wrong," he began.
"Any person who wants to indulge in violence is no longer a genuine Buddhist or genuine Muslim, because it is a Muslim teaching that once you are involved in bloodshed, actually you are no longer a genuine practitioner of Islam," the Dalai Lama said.
"All major religious traditions carry the same message: a message of love, compassion, forgiveness, tolerance, contentment, self-discipline — all religious traditions," he continued.
The Dalai Lama's remarks come in the same week as the Muslim holy holiday of Eid al-Adha and the 15th anniversary of the Sept. 11 terrorist attacks. 
The comments also come amid a swell of Islamaphobia. It's not just Trump's anti-Muslim rhetoric; last week, a traditionally dressed Muslim woman was set on fire in a possible hate crime in New York City. Also this month, a Brooklyn woman punched two Muslim women in the face and tried to rip off their hijabs.
In August, an Imam and his assistant were fatally shot in Queens.
Separating fundamentalism from Islam is crucial for integration and quelling violence, the Dalai Lama suggested, along with finding common ground: "On that level we can build a genuine harmony, on the basis of mutual respect, mutual learning, mutual admiration," he said.