Hillary Clinton gets it: "Black girl magic is real"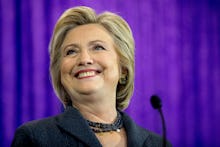 When Hillary Clinton delivered a speech at the Black Women's Agenda Symposium Workshop on Friday, she had she had a powerful message for the audience.
"While your stories are often missing from the history books, make no mistake — you are the change makers, the path breakers and the ground shakers," she said. "And you are proof that, yes indeed, black girl magic is real."
Clinton's words of empowerment echo #BlackGirlMagic and #BlackGirlsAreMagic, hashtags launched by CaShawn Thompson as a way to combat the racist and misogynistic criticism of figures like Serena Williams and Ava Duvernay. The initiative has gained traction across social media platforms, made its way onto T-shirts and, of course, helped create a community of women who celebrate each other in the face of marginalization. 
"You, your daughters, your granddaughters ... leave the house every morning, put on that game face that we all practice and enter a society that consistently challenges your worth," said Clinton. "Yet you remain fierce in the face of these challenges."
Clinton went on to shout out Democratic National Convention chairperson Donna Brazile, Reverend Leah Daughtry and Ohio rep. Marsha Fudge, the three black women who ran July's DNC.
"It goes to show that black women deserve more than a seat at the table — it's past time you had a fair change to run the meeting," said Clinton. She said she would never have made it that far were it not for the black women at the helm of her campaign.
The democratic nominee promised to secure affordable child care, paid parental leave and equal pay and continue her commitment to civil rights and women's rights — two issues she said her opponent,
According to Clinton, black women came out to vote more than any other group in the 2012 election. In 2016, the power to decide the results of the presidential election is theirs again.
"You have your hands on the wheel of history," said Clinton. "And you can write the next chapter of the American story."