Anger at Jimmy Fallon is really just fear that Donald Trump could actually win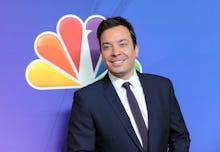 Late-night TV host and comedian Jimmy Fallon got skewered on Twitter Thursday night after Donald Trump appeared on his show, with many users accusing Fallon of being too easy on the Republican presidential hopeful who has fanned racial flames and insulted his way to his party's nomination.
Instead of pressing Trump on accusations of racism and anti-Semitism that have plagued his campaign, Fallon instead seemingly humanized Trump, talking about the candidate's love of fast food and even tousling his hair-sprayed locks to show they are, in fact, real.
But the outrage likely has nothing to do with Fallon.
Instead, it likely has everything to do with Trump and his current standing in the polls — nipping at Hillary Clinton's heels and making the possibility of a Trump-inhabited White House feel as real as it's ever been.
Let's take a step back.
Trump began his presidential campaign in June 2015, riding down the escalator at Trump Tower to laughter from Democratic and Republican pundits and prognosticators alike.
People could laugh when he appeared on Fallon's show last September to make fun of his own ego.
It was all fun and games when when he hosted Saturday Night Live last November.
Even after Trump secured the nomination, people laughed during his interview on Jimmy Kimmel Live! in which Trump started a debate flap with Sen. Bernie Sanders that never came to fruition.
It was easy to laugh then, when many of his detractors thought he had no shot of winning in November.
But now, the reality that Trump could win is setting in for many.
Trump has closed the once yawning polling gap with Hillary Clinton, and now trails her by just 1.5% in the RealClearPolitics national average.
It was a point elections analyst Jeffrey Blehar made on Twitter.
"Let's watch this guy set GOP on fire b/c lol look at rubes & their rube God OH NO SHIT HE MIGHT WIN," Blehar tweeted.
That pretty much sums it up.