Why the presidential debate format is broken — and how we can fix it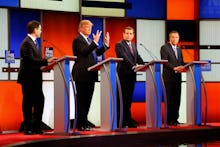 Donald Trump and Hillary Clinton have yet to debate one-on-one in this campaign, but there's already plenty of debate over the format of the presidential debates.
Should there be real-time fact checking? Should there be a moderator? Should third-party candidates participate? The future of the modern-day presidential debate is under real scrutiny in this election.
NBC's Matt Lauer caused an uproar over his performance as moderator on the network's Commander-in-Chief forum, organized with Iraq and Afghanistan Veterans of America, earlier this month. The two candidates did not appear on stage together, but it was the closest thing voters have had to a debate so far in this heated campaign.
Critics blasted Lauer for being unprepared, easy on Donald Trump and unfairly tough on Hillary Clinton, and not fact-checking many of the claims made during the hour-long forum.
Trump, the Republican nominee, defended Lauer's performance. "Well, he's going to hammer me and I think that's not the right thing to do. But ... I have to say that Matt Lauer did a fantastic job on that debate. I don't think he got treated fair," Trump said on the Tonight Show with Jimmy Fallon.
Do the debates even need a moderator?
Trump has criticized — and even snubbed — the debate process since the beginning of his campaign.
On Fallon's show, Trump repeated his desire to get rid of the moderators altogether. He cited the 1858 debates between Abraham Lincoln and Stephen A. Douglas as an example of a format he prefers. The two were running for an Illinois Senate seat and debated seven times, each opening with an hour-long statement. The other would speak for an hour and a half, then 30 minutes of rebuttal.
"The concept of having us both sitting on stage, or standing on stage. I like standing much better. But standing on stage and just debating. You know, they used to do debates that way. I think it would be fascinating for people. I think it would be far more fascinating," Trump said.
In the 2008 book, Inside the Presidential Debates: Their Improbable Past and Promising Future, Newton Minow and Craig LaMay write: "Today the Lincoln-Douglas debates are the benchmark for critics who decry the televised presidential debates as high-stakes political theater with little or no real substance."
How can the debates improve fact checking?
While Trump and others advocate for getting rid of the moderator altogether, many people are asking if the moderators need to do more. Namely, fact-checking the candidates more.
"There is a jour­nal­istic com­po­nent to what the mod­er­ator does. But there's so little time — that's the problem — and that time really belongs to the can­di­dates," Alan Schroeder, a North­eastern Uni­ver­sity jour­nalism pro­fessor and pres­i­den­tial debate his­to­rian, told the Columbia Journalism Review. "I'd rather trust Poli­ti­Fact or The Wash­ington Post, which have done their home­work and written [fact-checks] in a nuanced way, than rely on a mod­er­a­tor­ making a deci­sion in real-time."
At a forum on the future of presidential debates at the University of Notre Dame this week, Jim Lehrer, a former news anchor for PBS News Hour who has moderated presidential debates, said the format makes it difficult to moderate, let alone fact-check everything that's said.
"Now you have candidates free to engage, free to ask questions, free not to shut up," he said.
In an op-ed for CNBC, Joshua Spivak, a senior fellow at the Hugh L. Carey Institute for Government Reform at Wagner College, agrees. "Moderators may be tasked with making sure neither candidate goes over, but in the end, they do a very poor job of preventing one candidate or the other from extending their speaking time."
Many critics say the main problem with the presidential debates isn't just the format or the ability to fact-check or control the candidate's time limits — it's is the perceived bias among the moderators.
The candidates agree with this notion. Clinton's camp thought Lauer was to hard on her and gave Trump a pass.
"Last night, during the Commander-in-Chief Forum on live national television, Donald Trump kicked off his evening by lying to the American people about his position on the Iraq War – and no one stopped to call him on it," Clinton's campaign said the morning after the forum. "Not only did the moderator, Matt Lauer, fail to fact-check Trump – he then kept the conversation moving."
The first debate on Sept. 26 will take place at Hofstra University in New York. It will be moderated by NBC News' Lester Holt, who Trump says he doesn't particularly trust either.
"They're trying to make it so that Lester is going to come out and be really tough on me. I think it's unfair. I mean, they're trying to game the system," he told Jimmy Fallon.
The first debate will be divided into six segments of 15 minutes each "on major topics to be selected by the moderator and announced at least one week before the debate," according to the Commission on Presidential Debates.
During each segment, candidates have two minutes to respond to a question asked by the moderator. Then they will then have an opportunity to respond to each other. The moderator will use the rest of the time "for a deeper discussion of the topic," the commission said.
Trump is also worried about the second debate, co-hosted by CNN's Anderson Cooper, who he calls "very biased."
The second debate will be a town hall, with questions from moderators Cooper and ABC News' Martha Raddatz and from audience members and social media.  
What about third-party candidates?
There's also the issue of third-party candidates and whether they deserve to share the debate stage with the frontrunners.
IAVA took heat for not having the third-party candidates, namely Libertarian candidate Gary Johnson who is polling well among military and veterans, participate in the Commander-in-Chief forum.
IAVA said it has extended invitations to third-party candidates and hope to hold another forum in the future, but concerns remain over whether third-party candidates get shafted when trying to reach a large audience during nationally televised debates.
The Commission on Presidential Debates uses several national polls to determine if they get to participate on the main stage. They need to reach 15% of support from voters in the week before the debate. So far, neither Johnson, Green Party candidate Jill Stein or Independent Evan McMullin have managed to reach those numbers in the polls.
"That's a very, very difficult task, a dauntingly difficult task. And, in my view, it should be," Baruch College political scientist David Birdsell told the Hill. "We don't want to treat presidential debates as the audition platform for the next-out party. If the Libertarians have not been successful at establishing a large base, they need to get that work done."