Beyoncé and Jay Z reportedly hosting Tidal concert to raise money to fight poverty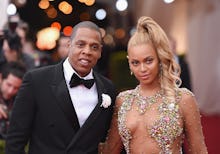 Beyoncé and Jay Z have done the Bonnie and Clyde heist thing, but now they're trying to play Robin Hood. 
According to a report issued by Page Six, Bey and Jay, hip-hop's ultimate power couple, are hosting a massive concert alongside several other Tidal artists dedicated to raising money for New York City's Robin Hood Foundation, which fights poverty and support education iniatives.
The event will also feature Nicki Minaj, Lil Wayne and Lauryn Hill. Tickets will be priced over a very broad range from $50 to $100,000 for the special VIP package. It's a similar line-up to Tidal's previous Tidal X: 10/20 charity concert, which saw the service raise $1.5 million, later donated to Black Lives Matter, Opportunity Agenda, Hands Up United and several other local and national social justice organizations, as Mic previously reported.
Jay and Bey's new Robin Hood event will reportedly take place five days short of a year to the day of Tidal X, by all reports it will be similarly lit.
The event caps a year of some of the Tidal roster's most political work to date. Starting with Beyoncé's Lemonade, which contains her first true protest anthem "Freedom," the service has hosted a series of social justice facing works, including Jay Z's "Spiritual" meditation on police brutality, Damien Marley's "Nail Pon Cross" dedicated to all the wrongly accused and, most recently, T.I.'s charged "Warzone" video.
Neither Tidal nor the Robin Hood foundation has confirmed the report, as of yet, however, that's not tremendously surprising considering Tidal's generally spontaneous concert organizing and release strategies. Mic has reached out to both organizations for comment and will update as the story develops.