Here's the Donald Trump scene in 'Home Alone 2' you may have forgotten about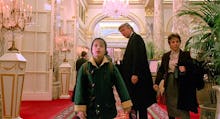 Christmas is still a few months away, but now is as good time as any to rewatch Donald Trump's brief performance in Home Alone 2: Lost in New York, the 1992 sequel to the classic holiday movie franchise.  
Macaulay Culkin plays Kevin McCallister, a young boy who is left home alone — again — in New York CIty by his family during Christmas.
Kevin ventures out into the city and convinces the staff to rent him a room at the Plaza Hotel, a New York City landmark, using his father's credit card. He enters the lavish hotel and stops a man to ask for directions. That man is Trump, who at the time owned the iconic hotel.
"Down the hall and to the left," is Trump's only line in the movie, for which he's credited for on IMDb.
Just three years after the movie's release, Trump sold the Plaza Hotel to a Saudi prince and a wealthy businessman from Singapore for $325 million to pay the debt he owed on the hotel, according to a 1995 report in the New York Times.
The Trump Organization still lists the hotel in its online real estate portfolio, although the entry notes that it was sold.
Trump is no stranger to show business. Even before launching his hit NBC series The Apprentice and The Celebrity Apprentice, Trump appeared as himself in several movies and TV shows.
In the 1989 Bo Derek movie Ghosts Can't Do It, Trump made a cringeworthy cameo and even won a Razzie for worst supporting actor for it.
That wasn't Trump's only movie appearance. According to the Hollywood Reporter's "memorable" Trump cameos list, they included his parts in The Associate, a 1996 comedy about Wall Street; Eddie, starring Whoopi Goldberg; Two Weeks Notice and Zoolander.
Trump has also appeared as himself in several TV sitcoms, including The Fresh Prince of Bel Air, The Nanny, The Drew Carey Show, Suddenly Susan, Spin City and Sex and the City.
And he's been in several national commercials, including for Pizza Hut and McDonald's.