iPhone 7 camera: The key differences between iPhone 6 and iPhone 7 camera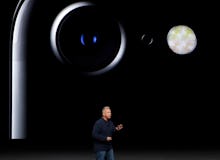 The iPhone 7 and iPhone 7 Plus have arrived with much fanfare. One of the devices' most talked-about features is the new camera, particularly on the iPhone 7 Plus, which boasts dual lenses. That being said, consumers and critics have lambasted Apple's latest offering for being "underwhelming." Are the cameras the exception?
Let's start with the lenses: The iPhone 7 and iPhone 7 Plus are equipped with a six-element lens, which eclipses the five-element lens found in the iPhone 6s Plus, iPhone 6s and iPhone SE, Business Insider reports. The extra element helps render more accurate photos. Business Insider details the importance of lens elements in an explainer of the iPhone 6s camera. 
The standard iPhone 7 camera has an ƒ/1.8 aperture, compared to the ƒ/2.2 of the 6s Plus, 6s and SE. This may seem like a diminished value to those unfamiliar with camera technology, but in aperture speak, the iPhone 7's camera is actually superior. A smaller f-stop number translates to a bigger aperture, which in turn lets more light into the lens. The iPhone 7 Plus also features a ƒ/1.8 aperture in its wide-angle lens; the accompanying telephoto lens has an ƒ/2.8 aperture.
Speaking of wide-angle and telephoto lenses, the iPhone 7 Plus does indeed have both of those — each of them representing half of the much-talked about dual lens camera. This technology is the first of its kind to be implemented in an iPhone, and most comparable smartphone cameras do not yet possess this feature. 
Wide angle increases the amount of space included in a photograph, whereas telephoto is nifty for zooming in on subjects from a distance. That's enhanced by the 2x optical zoom function in the iPhone 7 Plus, which physically extends the lens instead of relying on digital zoom, which essentially magnifies an image by cropping. Digital zoom decreases the clarity of a photograph, but if it must be relied on, the iPhone 7 Plus also has 10x digital zoom instead of the 5x available in all other recent iPhone models.
Another mostly new element to the iPhone 7 and iPhone 7 Plus is optical image stabilization. We say "mostly new" because the iPhone 6s Plus also had this feature, but the 6s and standard 6 were left out. OIS is a terrific addition to the iPhone cameras, as it captures less blurry photos and smooths out video footage. 
Pair these functions with the all-new Quad LED Flash, and iPhone 7 photographers have the ability to shoot some seriously high-quality photos. And if you just want to limit the cameras to more casual occasions, both the iPhone 7 and iPhone 7 Plus have a new seven megapixel HD camera for Facetime.
For a full breakdown of the iPhone camera differences, check out Apple's official comparison chart.