The arts space of the future has already broken ground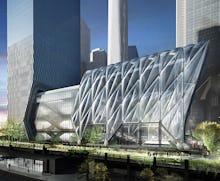 For anyone who's seen Ridley Scott's Blade Runner, the 1982 film's depiction of a perpetually dark and rainy post-apocalyptic Los Angeles didn't exactly inspire us to look forward to the year 2019.
Now that 2019 is just three years away, a radically different vision of our urban future is actually taking shape (in New York City, at least).
Currently under construction on the west side of Manhattan, where the elevated High Line park meets the Hudson Yards development zone, is a new arts and culture center called the Shed. While its name suggests a small, simple, ramshackle structure, its ambitiously futuristic design is anything but. The 200,000-square-foot space is designed to accommodate a broad range of performance, visual art and cross-disciplinary work with two key features: a six-level structure that includes two massive galleries covering 25,000 square feet of space and a 500-seat theater, and a telescoping outer shell that expands over the adjacent plaza. The finished building will also have an event and rehearsal space, and a free lab for emerging artists to create new work.
Transformative space. That vision emerged from the firm Diller Scofidio and Renfro, in collaboration with Rockwell Group, whose architects, designers, structural engineers and lighting experts challenged themselves to devise a smart design for a space that can encompass so many needs and uses at once. As we wait for the building to take shape, the design plans alone reflect the formal beauty and functional innovation at the heart of this new monument to arts and culture.
Artistic Director and Chief Executive Alex Poots envisioned a place where "you could be experiencing Rothko paintings, and next door there could be a symphony orchestra, and neither would disturb the other," he told the New York Times. The Shed's design embodies that radical flexibility.
The telescoping exterior shell expands to enclose the adjoining plaza to make room for concerts, performances, movies or an extra gallery space. When the shell is in use, it will create a 120-foot-high sound- and temperature-controlled performance space that will accommodate 1,250 seated or 3,000 standing people.
Flexible by design. The Shed was imagined as a kuntshalle,  a museum that doesn't have a permanent collection of its own, but that would accommodate shows from locals and international establishments alike. Poots is already getting to work bringing different artistic disciplines together, commissioning Lawrence Weiner, a Bronx-born conceptual artist, to create a new piece for the center's grand opening.
While that may be three years away, another commissioned program gets underway this fall and will carry us through until the 2019 opening. Described as "a free, citywide residency program in dance activism for young people in New York," the program is a collaboration with NYC school students and Reggie "Regg Roc" Gray's D.R.E.A.M. Ring, or Dance Rules Everything Around Me, devoted to the Brooklyn-born dance style known as flexn.
True to the name of the dance style, the animating spirit of the Shed and the building's innovative design, the program is called FlexNYC.