The surprising reason why 'Game of Thrones' may not be an Emmy contender in 2017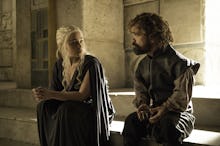 While Game of Thrones is expected to dominate at the 2016 Emmy Awards this Sunday, as it has in recent years, the show has simultaneously blown the Emmys drama race wide open for 2017. Why? Because it's likely not even going to be eligible next year.
A quick recap: After the show's widely praised sixth season came to an end, Game of Thrones' showrunners revealed that there's limited time left in Westeros. In other words, we're looking at 15 episodes tops over the next two years. However, the show's narrative is also advancing; throughout the series, the Starks' words have so ominously reminded us time and time again: "Winter is coming." Well, winter has finally arrived to Westeros. Ultimately, that meant that Game of Thrones' seventh season had to be delayed, as production needed to wait for colder weather to arrive before they could proceed with filming.
How long of a delay was unclear at first, but HBO eventually provided fans with an answer: Expect a summer 2017 release date, with a run of seven episodes instead of the usual 10.
In turn, the show is almost certainly missing out on the Emmys cycle for 2017. Per the Emmys' eligibility requirements for year's awards show, a drama series needed to air between June 1, 2015, and May 31, 2016; it's pretty safe to assume those dates will be the same, or at least similar, next year.
The 2017 drama race, then, becomes an exciting prospect. Could the Emmys acknowledge The Americans after finally nominating it this year? Could Better Call Saul reap the rewards of riding Breaking Bad's coattails (with a potential Gus Fring season three cameo)? Could Mr. Robot — a psychological whirlwind of a show — blow the collective minds of the academy?
That remains to be seen, but before Game of Thrones takes a one-year hiatus from the awards show, it will likely wear the crown one last time on Sunday.