What is Coumadin? Here's why Hillary Clinton is taking this medication.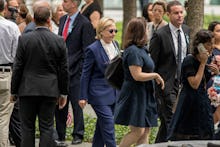 After abruptly leaving a 9/11 anniversary event on Sunday saying she felt "overheated," Hillary Clinton later revealed that she actually was being treated for pneumonia.
Her doctor released a letter and said the Democratic presidential candidate is taking Coumadin, a blood thinner.
"She has had recurrent blood testing for Coumadin dosing and adjustments. Her blood levels have been relatively stable," Dr. Lisa Bardack wrote in the letter.  
What is Coumadin and what is it used to treat?
According to the drug manufacturer, it is "a prescription medicine used to treat blood clots and to lower the chance of blood clots forming in your body." It is the brand-name version of the generic drug warfarin.
In 2007, the Department of Health and Human Services estimated that 4.2 million Americans age 18 and over regularly take a blood thinner.
In December 2012 when she was serving as Secretary of State, Clinton was treated for a concussion and blood clot after falling at her home in Chappaqua, New York. The State Department said she had a stomach virus and was feeling dehydrated when she fell.
Clinton's current medications also include a thyroid medication, Clarinex for allergies, an antibiotic for her pneumonia, "as well as B12 as needed," her doctor said in the letter, which pronounced Clinton in overall good health and fit for service.