The NFL just nominated convicted rapist Darren Sharper to the Hall of Fame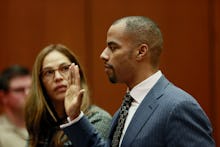 It looks like being convicted of rape won't preclude you from getting one of professional football's highest honors. 
Yesterday when the National Football League announced the 2017 nominees for its Hall of Fame, critics were outraged to find Darren Sharper among the nominees.  
If you weren't aware, Sharper is currently in the midst of serving an 18-year prison sentence for raping or attempting to rape at least nine women in four different states. 
It's his second time receiving the nomination, which includes 93 other players and coaches, but the backlash was swift. 
Any player or coach is eligible for inclusion once they've been inactive for five years or more. "Character" is not a factor in the nominations, although this is only the first step in a lengthy process. 
A selection committee will meet in February to pick the actual nominees. Sharper didn't receive any votes when he was nominated last year.
Sharper allegedly got away with his behavior for years. A ProPublica/New Orleans Advocate investigation revealed his misconduct was known to police officials for years and he was never prosecuted until his 2014 capture. 
If inducted — which is admittedly a long shot — Sharper would join two other NFL Hall of Famers who have had serious run-ins with the law. 
O.J. Simpson is currently serving a 33-year sentence on robbery and kidnapping charges, and Lawrence Taylor is currently on probation for patronizing an underage sex worker.