A Chicago police officer who shot two teens has been indicted on civil rights charges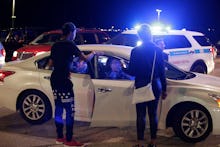 Chicago police have shot and killed 215 people in the last 15 years, according to a Chicago Tribune investigation, and one of them is facing federal civil rights charges. 
It's the first civil rights indictment over the course of that time.
The case in question stretches back to a December 2013 shooting when Officer Marco Proano shot and injured two teenagers as they were backing up their car. 
The shooting received attention after dash-cam footage was leaked to reporters by Cook County Judge Andrew Berman, who said it was one of the "most disturbing" incidents he'd seen in his career. 
Proano has been with the Chicago Police Department since 2006 and received nine complaints in four years, though he was never disciplined for any of his actions, the Tribune reported. "Chicago police have said the officer involved in the shooting was immediately taken off the street and assigned to paid desk duty, on which he remains," the Tribune reported.
Proano's salary is $81,588, according to the Tribune. 
Mothers of three teens who were in the car sued the city and received $360,000 in damages, although the result of the settlement didn't preclude Berman from releasing the video anyway, giving the case renewed attention. 
The city of Chicago has already come under fire this summer over its handling of police-involved shootings. 
Last month, Police Superintendent Eddie Johnson took steps to fire seven police officers who were involved in the 2014 shooting of Laquan McDonald, after an investigation found nearly a dozen officers had lied about the circumstances surrounding the shooting.