Here's what you need to know about Mike Pence, Donald Trump's running mate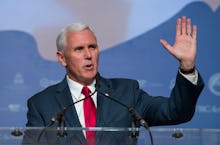 Mike Pence served in Congress for 12 years and is the current governor of Indiana. Now, he's on the national stage, sharing the 2016 ticket with Donald Trump, who, if elected, would be the oldest president sworn into office for a first term in U.S. history.
A Trump administration would put Pence a heartbeat away from the Oval Office.
Trump announced Pence as his running mate on July 15. During the Republican primary, Pence backed Texas Sen. Ted Cruz, but left the door open. 
"I'm not against anybody," Pence said. "But I will be voting for Ted Cruz in the upcoming Republican primary."
The 57-year-old politician grew up in an Irish Catholic family — one of six children — in Indiana, where his father owned gas stations. He has three children, including a son who is in the U.S. Marine Corps.
_____________________________________________
Read more: 
He has said that he is "a Christian, a conservative and a Republican, in that order."
Before entering politics, Pence graduated from law school and hosted a talk-radio show, the Mike Pence Show, that he joked was like "Rush Limbaugh on decaf."
Pence brings an insider element to Trump's candidacy, having worked in Washington, D.C., including two years as chair of the House Republican Conference.
"He's worked with [House Speaker] Paul Ryan. He's worked with the team in House leadership. He's somebody who has deep relationships in the evangelical movement, and he's somebody who has foreign affairs experience," Marc Short, a former Pence aide told the Associated Press.
As governor of Indiana, he rattled the left last year when a Religious Freedom Restoration Act, which critics said would allow businesses to discriminate against gay and lesbian customers, made its way to his desk. He later revised the bill after national outrage.
Political analysts typically view Pence as a calmer counterpart to Trump's over-the-top personality, giving him a bit of credibility and maturity. As Pence has often said, "I'm a conservative. But I'm not angry about it."
During the Republican National Convention in July, Pence told the crowd, "I'm new to this campaign, and honestly I never thought I'd be standing here."
"I guess he was looking for someone to balance the ticket," he said.