Edward Albee dead at 88: Legendary playwright dies after "short illness"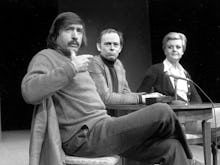 Edward Albee, one of the most popular and influential American playwrights of the 20th century and winner of three Pulitzer Prizes, has died at 88 years old after a short illness. 
The death was confirmed by Albee's personal assistant. He died in his Montauk home.
Albee was a giant of American letters whose dark, cerebral plays about domestic life were the recipient of numerous awards. 
His Broadway debut, "Who's Afraid of Virginia Woolf?" was an instant hit, winning the Tony Award for best play and spawning a film adaptation directed by Mike Nichols. 
Before undergoing surgery several years ago, Albee wrote a statement to be released upon his death. 
"To all of you who have made my being alive so wonderful, so exciting and so full, my thanks and all my love," he wrote.
He was arguably America's greatest living playwright. 
September 16th, 2016 9:10 p.m. Eastern: This story has been updated.