Trump says he would reverse Obama's deal with Cuba if country fails to meet his demands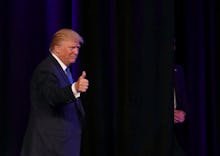 If Cuba doesn't comply with his demands, Donald Trump said on Friday, he'll cut off the freshly re-established trade and diplomatic channels between the country and the United States.
The comments came during a rally in Miami, Florida, according to Reuters — a city with a large Cuban population, due in large part to its proximity to the island nation.
During his second term in office, President Barack Obama made efforts to repair the strained diplomatic relationship between the U.S. and Cuba that had existed since the Cold War. He reduced restrictions on travel and trade with the country, according to MSNBC .
But on Friday, Trump called the measures taken by the Obama administration "one-sided," and said that they benefitted "only the Castro regime," according to CNN.
"All of the concessions that Barack Obama has granted the Castro regime were done with executive order, which means the next president can reverse them," he said. "And that is what I will do unless the Castro regime meets our demands."
Those "demands," Trump said, include "religious and political freedom for the Cuban people," and "the freeing of political prisoners," the latter of which CNN notes was absent from the copy of Trump's prepared remarks, giving it the appearance of having been improvised on the spot.
Cuba did release 53 political prisoners in 2014 as part of its deal to reopen diplomatic ties with the United States, according to CNN.
Trump's criticism of the Obama administration's deal with Cuba is a departure from comments he has made in the past that seemingly showed his support of improved relations.
As recently as March, Trump told CNN that opening a hotel in the country was something he would consider.
"Maybe it won't work out, but I will tell you, I think Cuba has a certain potential and I think it's OK to bring Cuba into the fold," he said.