Transgender woman Crystal Edmonds slain in Baltimore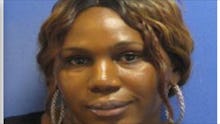 At 3:18 a.m., Baltimore police found Crystal Edmonds, a black transgender woman, with a bullet in the back of her head, bleeding out on the sidewalk, City Paper reports. Edmonds died in the hospital a few hours later, according to T.J. Smith, chief police spokesman. 
Smith told reporters that he was unsure whether Edmonds' identity as a transgender woman played any role in her death. 
"I heard the shots. This area is getting so bad. I heard the shots, and then my cousin called me and said she called the police," Sandra Johnson, a resident of Northwest Baltimore, told WBAL. 
Residents and police said the area is notorious for sex work, though they are unsure if sex work played a role in this death. 
"We've had some complaints about prostitution," Smith told reporters. "We've had some complaints of some illegal activity, so that's part of our investigation. We're not prepared to say that played a direct role in this, but it's certainly something we would follow up on as a possible lead." 
According to the Baltimore Police Department's Twitter account, they are offering a $2,000 reward for any information leading to an arrest. 
Edmonds is the second black transgender woman to be killed this week. On Monday, Mic reported the murder of T.T. Saffore, who was stabbed in Chicago's Garfield Park. According to the Advocate, Edmonds is the 21st known transgender person killed in 2016, which matches the number of transgender people killed in 2015. 
"This is the second homicide of a transgender woman of color that NCAVP has responded to this week, and the twentieth we have responded to this year" Emily Waters, senior manager of national research and policy at the New York City Anti-Violence Project, said in an emailed statement. 
We know that these homicides are directly related to high rates of unemployment, housing insecurity, and a lack of resources that would increase safety for transgender women. Yet very little is being done to address the broader structural inequalities. It's on all of us to address transphobia and racism and end the violence that transgender and gender conforming people experience daily.
Mic will update the post as new information becomes available.