Police arrest man for July killing of transgender woman Deeniquia Dodds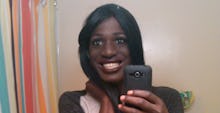 On Thursday, police arrested 22-year-old Shareem Hall for the July 4 shooting of transgender woman Deeniquia Dodds, NBC Washington reports. Dodds died nine days after she was shot. 
"In all likelihood, we believe the motive in this case was robbery," interim police chief Peter Newsham said in a press conference. Dodds was shot and killed just a few blocks from her home. 
Hall was charged with "murder while armed." Newsham said hate crime charges and an enhanced penalty will be a "serious consideration." According to Newsham, Hall did not know Dodds. 
"Whenever we lose a life in our city, we take it personally," Newsham said. "We want folks to know that we are going to continue to work to make sure we hold people responsible for this kind of violence on our streets."
At the time of her death, Ruby Corado, the founder and executive director of Washington, D.C. transgender advocacy organization Casa Ruby said in a statement to Mic that "Deeniquia was part of the Casa Ruby family, and she is gone, but not forgotten. Her death will not be in vain."
Corado added, "Casa Ruby denounces the genocide of young trans women of color. People in leadership need to address the employment barriers that keeps trans women of color from accessing the resources they need to grow healthy and thrive."
Joeann Lewis, who raised Dodds, worried about her safety because Dodds was involved in sex work. She described Dodds as a "beautiful person" who "loved to make you laugh." 
When Dodds was killed in July, she was the 14th known transgender or gender nonconforming person killed in 2016. Now, with Friday's news of the death of Baltimore's Crystal Edmonds, the number has risen to 21, which matches the total number of deaths in 2015.