Flint, Michigan, residents call for help, say the water crisis is far from over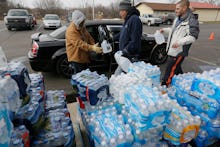 Nearly two years after massive quantities of lead first began contaminating the water in Flint, Michigan, residents and organizers from the city say that their nightmare is far from over.
On Wednesday, the National Resource Defense Council said that an amalgam of pastors, civilians and activists from Flint were scheduled to begin a two-day federal hearing for a preliminary injunction to ensure that residents can continue to receive access to safe drinking water. 
"After more than two years, Flint residents still cannot turn on their taps without worrying about lead exposure," Dimple Chaudhary, attorney for the NRDC, told a judge, according to Raw Story.
Pastor Allen Overton, one of the leaders of Concerned Pastors for Social Action, said that more needs to be done in order to ensure that Flint residents have access to safe water — something he argued that most Americans take for granted.
"Many residents, including the elderly and those without cars, are struggling to travel to bottled water distribution sites, and confusion remains about how to install and use home faucet filters," Overton said, according to NRDC. "This situation will not improve until a federal court steps in to compel state and city officials to act."
In April 2014, Flint began sourcing its water from the Flint River. But the river water turned out to be so corrosive, it leached poisonous lead from the city's aging plumbing infrastructure and delivered it directly to residents as they poured it from their taps.
Once abnormal lead tests exposed the dangerous levels of the substance present in Flint's water, the city declared a state of emergency. But for many residents, the measures the city has taken to ensure access to clean drinking water haven't been enough, activist Melissa Mays said. 
"Residents are still going without access to safe water. Those who do not have reliable transportation or cannot lift a 26.5 pound case of bottled water are slipping through the cracks during such a precarious and dangerous time," Mays said. "This must end."