Black students at American University claim rotten bananas are being thrown at them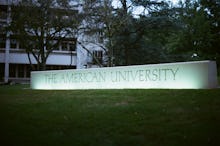 A black student at American University reported that someone threw a banana at her through the door of her dorm room earlier this month. Another black student says she found a rotten banana outside her dorm room the same night and an obscene drawing on her door's whiteboard, the Washington Post reports. 
The school is investigating two white male freshmen, according to the Washington Post. 
While the school is investigating, the Black Student Alliance, an umbrella organization for black student groups at American University, has scheduled a protest for Monday and called for the suspension of the students involved. 
The alliance issued a statement on Friday morning via their Twitter account. 
"Black students, especially young Black women, are not only subjected to racism outside of their college campuses, but inside as well," the statement reads. "We, the Executive Board of the Black Student Alliance, will not continue to let these acts of hate to be swept under the rug." 
In their statement, the BSA cited several other racist incidents that went unaddressed in the past, including instances of "nigger" being written on the walls of the same residence halls where the current controversy erupted and several Yik Yak posts that called for a slave auction of black students on campus. 
Yik Yak has been at the center of racist controversy at several other campuses, as well, including Emory University, New York University and Utica College. 
Students have started a hashtag movement called #TheRealAU to display the everyday racism that black students face on the Washington, D.C. campus. 
The university has responded to the incident in a statement. 
"We understand that members of our community feel hurt by an incident that happened in a residence hall and separate allegations of racially biased behavior," the statement reads. "Actions can and do have impact beyond their intent and that was the case here. The University condemns discrimination and discriminatory harassment and all violations are handled through the Student Conduct process." 
Student body president Devontae Torriente told BuzzFeed the incident was "completely unacceptable." 
"We have black freshman girls, and their introduction to the university is this incident that is so traumatizing," Torriente said. 
Currently, according to BuzzFeed, the students responsible for the incident are banned from entering the dorm where the incident took place. However, their dorm connects to the dorm of the incident, making it easy to harass the students again.