Explosive device detonated in New Jersey, narrowly missing 5K Marine charity race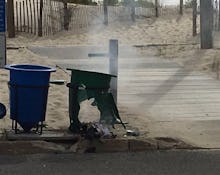 An unknown explosive device detonated in Seaside Park, New Jersey around 9:30 a.m. on Saturday morning along the route of a 5K Marine charity race, and responding authorities discovered another explosive that ordinance disposal experts are working to disarm, NBC New York reported.
The 5,000-person race was originally scheduled to start at 9:00 a.m. but was delayed due to late sign-ins, according to the station, and it is possible that delay prevented anyone from being harmed by the explosion. The race was subsequently canceled.
The Ocean County Prosecutor's Office posted photos of the site of the blast to Facebook, saying local authorities are being assisted by federal agents and the state police.
OCPO spokesman Al Della Fave told the Newark Star-Ledger "We've evacuated within a four-block perimeter. Traffic into Seaside Park is closed, but (motorists) are allowed to go to Seaside Heights ... People should avoid the area ... Thankfully no one was in the area when it took place."
According to Toms River Patch, the Semper Five 5K race is held to benefit the MARSOC Foundation, which "assists Marines who are members of the Special Operations Command and their families."
This is a breaking news story and may be updated as more information becomes available.