Dallas police sergeant, right-wing activist Larry Klayman sues Black Lives Matter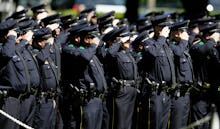 A Dallas Police Department sergeant has filed a federal lawsuit against several leaders of the Black Lives Matter movement, as well as the heads of other prominent black organizations, President Barack Obama and former Secretary of State Hillary Clinton, for supposedly inciting racial violence against U.S. police, reported the Dallas Morning News this week.
Sgt. Demetrick Pennie, who is also the president of the Dallas Fallen Officer Association, alleged persons named in the suit "have repeatedly incited their supporters and others to engage in threats of and attacks to cause serious bodily injury or death upon police officers and other law enforcement persons of all races and ethnicities."
News of the lawsuit was first reported on Breitbart, a right-wing site which has aggressively promoted the campaign of Republican presidential candidate Donald Trump this year. According to Breitbart, Pennie is being represented by Larry Klayman, the founder of conservative legal watchdog Judicial Watch, best known for having filed hundreds of ideologically motivated lawsuits against targets as varied as former President Bill Clinton's administration, a planned Muslim community center in New York, Facebook, Esquire, various media personalities, the National Security Agency, and on multiple occasions, the Obama administration.
In a release to Breitbart, Klayman said the lawsuit was motivated by a July 7 attack which killed five Dallas police officers at a peaceful Black Lives Matter rally.
"Sergeant Pennie and I feel duty-bound to put ourselves forward to seek an end to the incitement of violence against law enforcement which has already resulted in the death of five police officers in Dallas and the wounding of seven more, just in Texas alone," Klayman wrote.
But it also seems to have been motivated by something else. Klayman has some very conspiratorial ideas about what's really going on in Obama's White House.
In one of his suits, Klayman alleged Obama deliberately allowed the Ebola virus as well as the president's "infected fellow Africans" as part of a plot to wipe out the "Caucasian race and Jewish-Christian religion." Last year, Klayman filed a suit blaming Obama for the mass murder of nine black congregants at Emanuel AME Church in Charleston, S.C. by white supremacist Dylann Roof, arguing "Obama and company's biased actions against whites, Christians and Jews have ironically served to draw neo-Nazis and sick Klansman out of their caves and have emboldened them to try to justify criminal acts."
Klayman also believes the president is a Muslim, and just two months ago, filed a separate lawsuit alleging his life was in danger because Obama and his "soul brothers" are cultivating an atmosphere of anti-white hatred.