US says it accidentally bombed Syrian troops, possibly killing dozens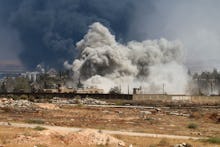 The U.S.-led military coalition against ISIS admitted on Saturday that its planes were involved in an airstrike on Syrian forces loyal to Bashar al-Assad's government that the Russian military claims killed at least 62 soldiers, CNN reported.
The strike in Deir al-Zour was not deliberate but the result of confusion about which force the targets were fighting for, according to the coalition. Russian Maj. Gen. Igor Konashenkov told Russian state-run broadcaster Sputnik there were four strikes in total, delivered by two F-16 fighters and two A-10 close air support jets, CNN reported.
"The coalition airstrike was halted immediately when coalition officials were informed by Russian officials that it was possible the personnel and vehicles targeted were part of the Syrian military," U.S. Central Command said in a statement to CNN.
According to the BBC, the incident is the first time U.S. forces have been involved in a confirmed attack on Syrian forces.
Over 470,000 people have likely died in the ongoing civil war, Syrian Center for Policy Research analysts concluded in February 2016. Many more have undoubtedly died since.
Earlier this month, U.S. Secretary of State John Kerry announced the successful negotiation of a 7-day ceasefire between government forces and U.S.-supported militia groups, as well as an agreement to coordinate Russian and U.S. military intelligence against ISIS and al-Qaeda's Syrian affiliate, Jabhat Fath al-Sham (until recently known as the al-Nusra Front) if the peace held.