Disney releases Maui costume that lets kids pretend to be Polynesian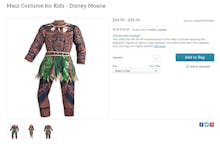 The Walt Disney Company's online store is selling a brown-skinned full-body costume of Maui, the great hero of Polynesian folklore, under the apparent impression racial identity is appropriate to turn into a costume.
The $44.95-$49.95 full-body set features a mock leaf skirt and rope necklace, but is mostly composed of mock brown skin with tattoos:
"Your little one will set off on adventures in this Maui Costume featuring the demigod's signature tattoos, rope necklace and island-style skirt," reads the costume's description. "Plus, padded arms and legs for mighty stature!"
The costume is merchandising for Moana, an upcoming Disney film featuring Dwayne "The Rock" Johnson as the demigod and Auli'i Cravalho as Moana, an islander attempting to save her people from a monster.
Writer Mikki Kendall was among those who found the costume to be tasteless, joking it allowed children to "Wear another culture's skin!"
Others weighed in as well:
"The problems with blackface, yellowface and brownface run deep — throughout history, popular culture mocked and dehumanized people of color using harmful stereotypes and exaggerated, cartoon-y costumes," MTV's Katherine Speller wrote in 2015. "These racist images managed to make it into stage shows, movies and even children's cartoons."
Disney did not immediately return a request for comment.