Explosion in NYC's Chelsea district injures at least 29; second device reportedly found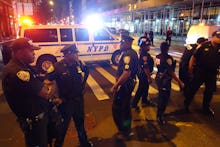 An explosion ripped through the Manhattan neighborhood of Chelsea on Saturday night at 131 W. 23rd St. near Sixth Ave, resulting in at least 29 injuries and triggering the deployment of New York Police Department counter-terrorism units, NYPD Commissioner James O'Neill said in a press conference Saturday night.
According to O'Neill, police believe the explosion was "intentional."
Shortly after 11:00 p.m., the NYPD's special operations unit posted that a "possible secondary device" was discovered at 27th St between 6th and 7th avenues.
"Authorities believe they may have found a pressure cooker device with wires and timer" at the second site, according to Mike Levine, a reporter for ABC News, citing sources.
Later in the evening, CNN said multiple law enforcement sources confirmed that a pressure cooker device had been found at the second site.
In an update shared on Twitter, the NYPD asked "residents who live on West 27th Street between 6th and 7th Avenues in Manhattan to stay away from windows facing 27th Street until we clear the area of a suspicious package."
"There is no evidence at this point of a terror connection to this incident," said NYC Mayor Bill de Blasio during the press conference.
According to the mayor, there is "no specific and credible threat against NYC at this point in time from any terror organization ... Whatever the cause, whatever the intention here, New Yorkers will not be intimidated. We're not going to let anyone change who we are or how we go about our lives."
The Fire Department of the City of New York has ruled out the possibility of a gas line explosion, according to CNN, though authorities are also investigating whether the detonation may have been caused by construction equipment at an outdoor site nearby.
Earlier in the evening, both CNN's law enforcement source and New York City Councilman Corey Johnson confirmed that there are at least 26 patients under medical surveillance as a result of the explosion. According to Johnson, 23 patients have minor injuries and 1 has a moderate injury, and the other 2 are in unclear condition.
"Walking down 23rd and if I was five feet further, I hear this bomb, every single window on the block shatters ... my whole body rattled," 22-year-old ad salesperson Tim Murphy told Mic's Celeste Katz.
"A woman next to me had a shard of glass in her leg," he added. "Ambulances were there within minutes ... There wasn't much fire after it, there was just a lot of smoke."
"If I had not stopped, I would have been right in it," Tim continued.
Ryan McMillen told the New York Daily News he saw the rear of a sports utility vehicle "totally blown out. Everyone started running and screaming."
Earlier in the day, an explosive device detonated alongside side of the route of a 5k charity race to benefit military personnel in Seaside Park; however, the race had been postponed, and no injuries were reported.
September 18, 2016, 1:25 a.m. Eastern: This post has been updated.