Donald Trump says "bomb" went off in New York before official confirmation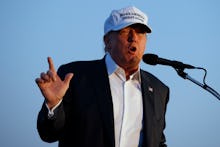 During a speech in Colorado Springs, Colorado, on Saturday night, Republican presidential nominee Donald Trump responded to news of an explosion in New York's Chelsea district that wounded at least 29 people by telling his supporters, "Just before I got off the plane, a bomb went off in New York and nobody knows exactly what's going on."
"But boy, we are living in a time  — we better get very tough, folks," he added, reported the Washington Post. "We better get very, very tough. We'll find out. It's a terrible thing that's going on in our world, in our country and we are going to get tough and smart and vigilant. ... We'll see what it is. We'll see what it is."
Trump made the statement hours before an official press conference during which NYC officials including Mayor Bill de Blasio and Police Commissioner James O'Neill stated authorities believed the explosion was "intentional" and not the result of a gas explosion. Before that press conference, NYC authorities had made limited information available to the public.
Trump took the stage roughly 30 minutes after the explosion occurred. 
CNN's Jeremy Diamond wrote the Trump campaign did not respond to requests for comment on how Trump was briefed on the incident, or whether he had been given access to privileged information on the explosion by authorities. As the report noted, "Typically, national political figures use caution when describing unfolding investigations and law enforcement actions."
Since then, more information has emerged about the incident, including the discovery of a second device blocks away from the scene of the original detonation.
While some on Twitter criticized Trump's rush to judgment, others cautioned the event may ultimately make him seem more prescient to voters.
Democratic presidential nominee Hillary Clinton similarly described the incident as a "bombing," reported ABC News' Liz Kreutz, though she clarified that she had been "briefed" on the incident — and her statement came hours later.