Minnesota mall stabbings leave 9 injured, suspect dead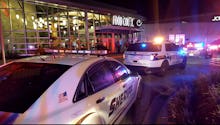 A stabbing attack at a St. Cloud, Minnesota, mall on Saturday night ended with nine people injured and the suspect dead, the Associated Press reports.
According to the AP, the male suspect wore a private security officer uniform and made repeated references to Allah before he was fatally shot by an off-duty officer inside the Crossroads Center mall.
During a press conference, St. Cloud Police Chief Blair Anderson said that eight victims had been transported to a local hospital with non-life-threatening injuries following the attack, which took place at around 8:15 p.m. CNN later reported a total of nine victims.
One man, Danny Carranza, told USA Today that he was in a play area near Macy's with his children when he first heard screaming.
"People came running around the corner and I freaked out because I thought it was a terrorist attack or something because I saw a lot of people, so I grabbed my kids," he said. "I ran as much as I could and I heard someone yell 'Stop! Stop!' As soon as the door shut I heard gunshots."
During the press conference, Anderson cautioned against labeling the violence an act of terrorism, according to AP, saying that details about a motive were still unclear.
"We will be diligent and get to the bottom of this," he said. "Starting tomorrow, things won't be the same here."
Sept. 19, 2016, 9:30 a.m. Eastern: This story has been updated.