Cuomo: Explosion in New York "obviously" terrorism, but not linked to international groups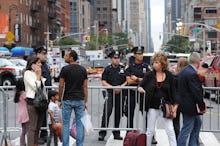 At a press conference on Sunday, New York Gov. Andrew Cuomo told reporters that a late-night blast that rocked Manhattan's Chelsea neighborhood was "obviously an act of terrorism," but reconfirmed that no international groups have been linked to the attack thus far.
As shoppers, residents and tourists milled about, a loud explosion shook the block near 131 W. 23rd St. near Sixth Ave., shattering windows and showering the street with debris.
NYPD Commissioner James O'Neill said in a press conference Saturday night that it was clear that the blast had been "deliberate," and CNN later reported that law enforcement officials believe that the blast was likely set off by an explosive device hidden inside a dumpster.
The network also reported that a second device, which appeared to be a pressure cooker, had been found at a second scene just a few blocks away.
But on Sunday, Cuomo set out to dispel fears that the attack had been perpetuated by a terror group from abroad — though he noted that the investigation is just beginning.
"It depends on your definition of terrorism. A bomb exploding in New York is obviously an act of terrorism, but it's not linked to international terrorism," he said, according to Quartz.
He also said that although the explosion had caused "significant property damage" to the Chelsea neighborhood, all 29 of the victims who had been admitted to nearby hospitals with minor injuries the night before had since been released.
"When you see the amount of damage, we really were lucky that there were no fatalities," he said. 
Authorities are currently investigated who might have planted the explosive devices, combing through surveillance footage from both crime scenes for clues. In the meantime, Cuomo said, there was no reason to be afraid.
"I want New Yorkers to be confident when they go back to work on Monday that New York is up and running and we're doing everything that we need to do," he said.