H&M's new feminist ad is a subversive take on what a "lady" should be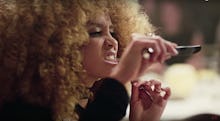 H&M's latest ad wants to show women that their behavior is always "ladylike" — even if it doesn't match society's definition of what a lady should be.
The fast fashion giant's campaign for its Autumn 2016 Collection features women of all shapes, sizes and colors subverting the traditional "norms" or womanhood in one way or another: A curvy woman sashays around in her underwear; a grinning redheaded woman reclines to show fully-grown armpit hair; a woman with an afro laughs as she bawdily picks her teeth with a fork at dinner. 
The montage, set to a cover of Tom Jones' "She's a Lady," by Lion Babe, is meant to show women that actual "womanhood" encompasses far more experiences than fashion ads would have you believe.
According to Adweek, the spot features appearances from actress Lauren Hutton, model Adwoa Aboah, trans actress Hari Nef, Design Army's chief creative officer Pum Lefebure and Lion Babe's Jillian Hervey.
Fans of the ad took to Twitter to express their support: