Authorities reportedly investigating Chelsea bombing manifesto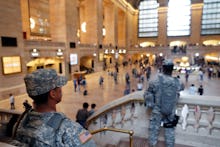 Investigators looked into whether a Tumblr site and manifesto created in the aftermath of an explosion in New York which wounded at least 29 people is authentic, reported the New York Daily News on Sunday.
The page, which was titled "I'm the NY Bomber," contained two posts titled "Manufacturing Text Explosives" and "Taking a human life," and posits the creator to have laid the explosives in protest of societal mistreatment of the LGBTQ community.
A suspect, Ahmad Khan Rahami, was detained in connection with the explosion following a shootout with police in which one officer was reported injured on Monday, thus confirming the site was likely a hoax.
In the first post, the author wrote he laid the bombs because "I cannot live in a world where homosexuals like myself as well as the rest of the LGBTQ+ community are looked down upon by society. It is 2016 and we are still being viewed as mentally ill, sinners, attention seekers, and just plain weirdos in general."
The author added, "I am not going to live in a country where it is OK to have a misogynist, xenophobic, racist Islamophobic, republican candidate running for President of The United States! That's implying that republicans in general should even be taken seriously as they are all cisgendered privileged white people."
In the second post, the author wrote, "... what if people from the LGBTQ+ community started lashing out in response to the violence and oppression we face with violence and possibly oppression? I'm sure that would give people a reason to not stand by while so many people are being oppressed."
The site promised additional attacks and made reference to the lack of fatalities resulting from the Saturday bombings, admitting "errors" were made that will not be repeated.
It has since been taken down.
As the Daily Beast wrote on Sunday, the post seems tailor-written to blame the bombings on the gay community. Initial traffic to the site was driven from 4chan and Paul Watson, a contributor to far-right conspiracy site InfoWars, who wrote, "Could this be another example of a crazed leftist going jihad in the same manner as the Black Lives Matter-inspired shooter who murdered cops in Dallas?"
The NYPD declined to comment on the website, instead directing Mic to a press conference earlier in the day in which NYC Mayor Bill de Blasio and NYPD Commissioner James O'Neill stated they would not comment on the status of the investigation.
September 19, 2016, 6:35 p.m. Eastern: This post has been updated to reflect new information on a suspect detained in connection with the bombing.