WWII veteran and former POW has harsh words for Donald Trump in new Hillary Clinton ad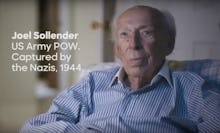 Hillary Clinton has a message for military veterans: you deserve better than Donald Trump. In a new campaign ad, a World War II veteran and former prisoner of war watches the Republican frontrunner defend his assertion that John McCain was a "dummy" rather than a war hero. 
The U.S. Senator was captured, Trump argued, suggesting that having been taken by the enemy makes him less heroic and less deserving of our praise. The suggestion is visibly offensive to Joel Sollender, who was captured by the Nazis in 1944, and who shares his thoughts on camera. 
"Apart from the outrage of the insult to prisoners of war, he insulted all of our military," Sollender said, going on to share his experiences as a POW in the European theater. Sollender has tears in his eyes as he explains that his war ended "70 years ago, and yesterday."
While Trump has made overtures to veterans in the past, many of those have appeared opportunistic and self-serving: There was the time he made a public point of skipping a primary debate so that he could hold a fundraiser for veterans, which made some members of the military feel as if they were being "used for political stunts." It took months for him to come up with the money, which turned out to be millions short of the sum he promised. On Friday, he co-opted a veterans' press conference to plant some lies about Clinton having started the so-called birther controversy he helped ignite. 
Trump also picked a fight with the parents of Humayun Khan, a U.S. army captain who died in the Iraq war. He has claimed that he has made "a lot of sacrifices," ostensibly on par with the fallen soldier's — though Trump repeatedly dodged his draft for the Vietnam War. Despite never having served his country, the candidate did happily accept the Purple Heart of Lt. Col. Louis Dorfman, calling the receipt of a veteran's gift "much easier" than earning it in battle.
All things considered, Sollender's rebuke of Trump is admirably level-headed, if also a strong blow against the would-be politician.
"He's everything I would not want to be, or emulate," Sollender said. "And I would hope we would not adulate a man like him and put him into the most precious office in this country."
Watch the full video below: