Conflicting reports say Lady Gaga will headline 2017's Super Bowl LI halftime show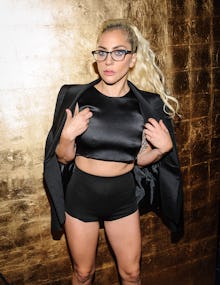 Us Weekly reported Sunday that recording artist Lady Gaga would be the headline performer at the 2017 Super Bowl, a rumor the NFL denied via the Washington Post reported later that day.
"We have had conversations with several fantastic artists about the Pepsi Super Bowl Halftime Show," Natalie Ravitz, senior vice president of communications for the NFL, said in an email to the Post. "However, at this point we do not have a final decision. We're happy there is so much excitement about the show."
According to a source cited by Us Weekly, the 30-year-old singer/songwriter will perform the halftime show for Super Bowl LI, which is currently scheduled for February 5, 2017, at Houston's NRG Stadium. Lady Gaga has a tough act to follow, given 2016's well-reviewed performance from Beyoncé (accompanied by the less well-reviewed Coldplay, Mark Ronson and Bruno Mars).
Gaga made her own appearance last year, singing the National Anthem in a red sequined pantsuit to uproarious applause from the audience.
Gaga's recently announced fifth studio album, Joanne, is scheduled for an October release. According to Mic's Chris Riotta, "Joanne is Gaga's middle name and the name of her late aunt on her father's side. She and her father have opened a quaint Italian restaurant in New York City with the same name."
Sept. 19, 2016, 3:32 p.m. Eastern: This post has been updated to reflect a statement from the NFL denying the Us Weekly report.