6 reasons 'Full Frontal With Samantha Bee' is better than the variety talk series nominees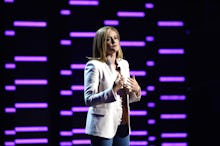 In the freshman season of her TBS talk show Full Frontal With Samantha Bee, Daily Show alum Samantha Bee accomplished something that few other hosts and executive producers of nighttime talk shows have been able to do.
Setting aside the fact that she's carried the responsibility of being the only woman in late night, Bee combined an in-your-face comedic sensibility with biting political satire in a way that no other show — especially a Jon Stewart-less Daily Show — has been able to muster. And yet, she was still snubbed for a nomination for outstanding variety talk series at the 2016 Emmys — an award John Oliver's Last Week Tonight won.
Here are a few reasons why Bee's snub isn't easily forgivable.
She's brought light to the nation's growing Islamophobia with humor.
With Donald Trump and his Islamophobia dominating the media cycle, few have been able to plumb the nation's problem with hatred against Muslims with as much sensitivity as Bee, who exposed the idiocy of Islamophobia with the same casual wit that some comedians use to get coffee.
She kept it real when it came to Antonin Scalia's death.
For many on the right, Scalia's death was a blow to keeping the Constitution alive on the Supreme Court. For everyone else who was hoping to keep marriage equality and a woman's right to choose what to do with her body on the books, Bee offered an alternate take on Scalia's death: a humorous eulogy that wasn't afraid to call bullshit on Republicans who were politicizing Scalia's death and trying to block any of President Barack Obama's nominations to the Supreme Court. No carpool karaoke has matched that impact.
She didn't shy away from putting women's issues front and center in late night TV.
Most late night television shows rely on cheap jokes and light talk — just look at how Jimmy Fallon soft-balled his interview with Trump and tousled his hair. But Bee didn't shy away from giving her viewers a history lesson: She gave a fully researched and hilarious review of the pro-life movement.
She brought a unique feminist sensibility to late night.
If you watch any of Bee's segments, and you'll see something sorely missing from television — a person advancing the idea that women are people who are worthy of getting recognized for their accomplishments. There's no denying: Her comedy is unabashedly feminist. No other segment highlights her willingness to stand up for women rather than demean them than her segment on putting Harriet Tubman on the $20 bill.
Of the current $20 bill's face, Andrew Jackson, she said, "He was not a Founding Father. He was a genocidal prick who forced the relocation of nonwhites and fomented populist rebellion — kind of like a Trump with better hair."
She actually made change when her segment got a bunch of rape kits tested.
Bee didn't just get coffee or sing karaoke. She actually helped unclog a rape kit backlog in Georgia with a segment that aired in March. Watch out Olivia Benson, Bee may just be the biggest feminist hero on television.
She became more than just a late night host: She was a national conscience.
Hoping to connect the dots for those watching at home, Bee delivered a great monologue about what something as far away as the Brexit meant for U.S. politics. But she wasn't talking down to her audience or enlightening them. She was engaging them in a conversation. She knows that we have the facts all along — we just need a little late night guidance.