The Emmys mixed up Cuba Gooding Jr. with Terrence Howard on the red carpet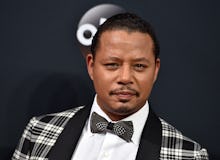 Terrence Howard is the star of the wildly successful Empire. Cuba Gooding Jr. is an Oscar-winner and star of miniseries The People vs. OJ Simpson: American Crime Story. The two have little in common physically, but that didn't stop the Emmys official Twitter account from mixing up the two in a tweet from the red carpet.
In a post that has since been deleted, the Academy of Television Arts and Sciences tweeted a picture of Howard in a plaid suit, but the tweet's accompanying text said Gooding Jr. was arriving to the awards show. BuzzFeed's Spencer Althouse captured a screenshot of the tweet before it was deleted.
The Emmys reissued the tweet a few minutes later with the correction.
This is not the first time two people of color have been mixed up by an official awards account.
In December, the Golden Globes mixed up previous winners Gina Rodriguez and America Ferrera — again, different Latina women — in a tweet.
Ferrera and Eva Longoria later parodied the moment in an on-air bit during the Golden Globes.
Sure, a little mix up can happen now and again, but it's best for your social media team to know the names and faces of the nominees from two of television's best-known shows.