Alan Yang, 'Master of None' creator, just nailed the need for Asians on-screen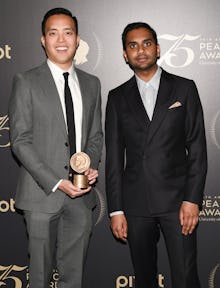 While accepting his Emmy for co-writing the Master of None episode "Parents" with Aziz Ansari, creator Alan Yang, an Asian-American writer, explained why we need not just more, but better, Asian representation on-screen.
"There's 17 million Asian-Americans in this country, and there's 17 million Italian Americans," Yang said. "They have The Godfather, Goodfellas, Rocky, The Sopranos. We've got Long Duk Dong." Yang was referencing the infamous Asian character played for laughs in the '80s teen classic Sixteen Candles.
Yang added, "We have a long way to go."
Yang's callout to this specific character underlines not only how many fully realized Italian characters live in the American cinematic imagination, but how often Asian characters are played for laughs and not allowed to be full characters. He's not alone in his call for greater diversity — especially better depictions of Asian-Americans — on-screen, either.
Yang's speech echoes comments made earlier this year by Fresh Off the Boat actress Constance Wu, who has been a vocal advocate for increasing Hollywood diversity. She's also been highly critical of Hollywood's tendency to whitewash Asian stories or put white characters in "yellowface" — when a white person plays an Asian role, like Scarlett Johansson in Ghost in the Shell or Tilda Swinton in Doctor Strange.
Yang didn't only point out a problem. He also devised a solution: "Asian parents out there: a couple of you get your kids cameras instead of violins."