2016 Emmys: Jill Soloway nails why including marginalized groups on-screen is vital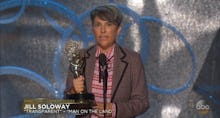 After capturing the Emmy for outstanding directing in a comedy series at the 2016 Emmy Awards, Transparent creator Jill Soloway noted how important it is for shows like her own represented marginalized groups in popular culture.
"When you take women of color, queer people, trans people" and other people from marginalized groups, Soloway said in her speech, and you make them "the subjects, instead of the objects, you change the world."
Soloway concluded by briefly citing the violence against trans women. The 21st known transgender person killed in the United States in 2016 died Saturday.
"We need to stop violence against trans women and topple the patriarchy," she said.
After her speech, Emmy viewers on Twitter were ecstatic with Soloway's win — and her powerful speech.
Watch Soloway's full speech below: