Jeffrey Tambor just showed how a cisgender actor can be an ally to transgender talent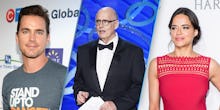 While accepting an Emmy for outstanding actor in a comedy series, Jeffrey Tambor, who stars as a transgender woman on the show Amazon series Transparent, made a call to those who work behind the scenes in Hollywood to hire transgender people to play transgender roles.
"Please give transgender talent a chance," Tambor said. "Give them auditions, give them their stories. Do that."
Many on Twitter agreed, and even wished that a transgender woman was onstage accepting an award for the role Tambor played instead of Tambor himself.
Those who were unhappy with Tambor walking onstage had an unusual ally: Tambor himself. While accepting the award, he also said, "I would not be unhappy if I were the last cisgender male to play a trans woman on television."
Tambor's candor about cisgender actors playing trans roles differs greatly from the responses of other cisgender actors who have been cast in trans roles.
When asked at the Toronto International Film Festival about her film (Re)Assignment, actress Michelle Rodriguez had a very different message for the trans community:
I think the transgender situation, you could talk about that if you were talking about the psychology or the social aspects of the situation. This is — it's not about that. It's an action genre film and we're not trying to get psychological or deep about it, so lay off. It's an entertainment piece, guys, calm down. I'm on your team.
Matt Bomer has stayed silent about his casting as a transgender woman in the upcoming film Anything, but executive producer Mark Ruffalo put out a series of tweets in which he explained his reasoning for casting Bomer.
"To the trans community. I hear you," Ruffalo wrote. "I suggested Matt for the role after the profound experience I had with him while making The Normal Heart."
It looks like Ruffalo is just the type of Hollywood gatekeeper that Tambor was speaking to about casting transgender talent.