Rami Malek wins first Emmy for 'Mr. Robot' at the 2016 Emmys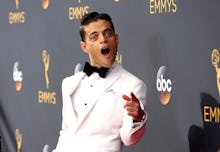 Mr. Robot star Rami Malek won his first Emmy on Sunday night for outstanding lead actor in a drama series. The honor comes in the middle of the show's two-part season two finale; this was the first time Malek has been nominated for one of the prestigious awards.
"Oh my god, oh my god, Please tell me you're seeing this too," Malek said to the crowd after arriving onstage, referencing what his Mr. Robot character often says. "Thank you to the academy and everyone who gave me a chance to play this role. I am honored to be recognized with such a distinguished and accomplished group of actors. I'm honored to stand here and represent my family and every single person that worked to help me get this far."
In a red carpet interview with ABC Malek said he feels Mr. Robot has been such a massive success, in part, due to Elliot's deeply relatable feelings of loneliness and depression.
Despite the dark character Malek plays, the star was all smiles throughout the night, and his adorable side shone through as he accepted his award.
"I play a young man who is, I think like so many of us, profoundly alienated," Malek said in his speech. "The unfortunate thing is I'm not sure how many of us would wanna hang out with Elliot. But I want to honor the Elliots, right? Because there's a little bit of Elliot in all of us."
Watch Malek's speech below.