Still in jail, alleged sexual assault victim feels "traumatized every day" awaiting trial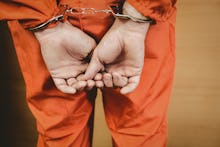 Given that Brandy Buckmaster is an alleged victim of sexual abuse, it doesn't seem right that she's currently awaiting trial in an Oregon jail. Especially considering that the alleged offenses occurred behind bars, which basically means that she's living in one extended trigger situation.
In an exclusive interview with the Guardian, published Monday, Buckmaster explained her indignation at being held as a material witness in the Washington County jail while she waits to testify against Brian Balzer, the man who she says coerced her into a longstanding sexual relationship between 2012 and 2014, while he was a guard and she was an inmate at the Coffee Creek Correctional Facility. Under the law, sexual conduct between an inmate and guard is never consensual. 
Buckmaster effectively received a prison sentence for coming forward to report Balzer, while he walked free. 
"I feel like I'm being punished for what he did to me," Buckmaster told the Guardian. "I get traumatized every day. I feel like [prosecutors] have victimized me as much as he has."
On Dec. 3, authorities arrested Balzer and charged him with one count of first-degree custodial sexual misconduct and one count of supplying contraband, both of which are felonies, according to the Oregonian. Buckmaster alleges that Balzer exploited his position of power to engage her in a sexual exchange. 
After Balzer's arrest, Buckmaster went off the grid. She said she was just trying to stay away from people who might pull her back into drug use; prosecutors argued that her failure to show up when subpoenaed made her a flight risk. Because they needed her to testify against Balzer, they detained her as a material witness, a seldom-employed move to ensure difficult subjects will appear in court. Buckmaster, however, maintains that she wants to participate in the trial.
"I don't want to run," she told the Guardian. "He's going to pay for what happened. ... If I have to be accountable for my actions and for my past, he has to be accountable for his." 
Until she spoke with the Guardian, Buckmaster's name had been kept out of the media. In sharing her identity, the 41-year-old woman hopes to encourage other victims to speak up. But throwing her back in prison for crimes committed against her has the opposite effect, as Shanlon Wu, a former federal sex crimes prosecutor and current partner at Wu, Grohovsky & Whipple, previously told Mic.
"There's a big disincentive that you're creating there," Wu said in a phone interview earlier this month. "Whenever you do something which essentially punishes a sexual assault victim, it adds terribly to the burden of making victims feel that it's safe and a good thing to come forward."