Backpack filled with multiple IEDs found at New Jersey train station, FBI confirms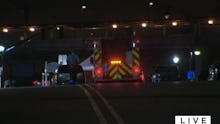 The FBI is investigating after two men found a backpack with up to five improvised explosive devices inside near an Elizabeth, New Jersey, train station Sunday night, CNN reported.
The IEDs were in the bag, which was in a trashcan outside a bar located near the Elizabeth New Jersey Transit station at about 9:30 p.m., according to the report.
One of the devices was detonated accidentally by a robot sent in by authorities."The robots that were going in to disarm it cut a wire and it exploded. ... I know there are other devices. I don't know what they're made up of, but they're going to have to be removed," Elizabeth mayor Chris Bollwage told CNN.
Authorities say their is no indication the devices found in Elizabeth have any connection to the explosion in the Chelsea neighborhood of Manhattan Saturday night or the pipe-bomb-like device found near a charity run in Seaside Park, New Jersey. 
The explosion in Chelsea injured 29 people; New York Gov. Andrew Cuomo called the incident "obviously an act of terrorism," but said that it's not believed any international terrorist organizations were involved. 
The four other devices will be examined at the FBI laboratory in Quantico, Virginia.