Hollywood Reporter "explained" a famous Jay Z lyric — and Twitter roasted them for it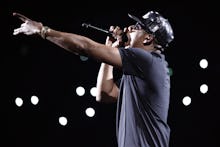 Not everything needs to be explained. So goes the message Twitter users sent the Hollywood Reporter on Sunday, after the entertainment magazine tweeted an article purporting to "explain" lyrics from Jay Z's 2003 song, "Public Service Announcement."
The lyric in question — "I got the hottest chick in the game wearing my chain" — was quoted (and misquoted) during at least three acceptance speeches at the Primetime Emmy Awards Sunday night: 
By Sterling K. Brown, who won the best supporting actor in a limited series award for his role in The People v. O.J. Simpson: American Crime Story: "I got the hottest chick in the game rocking my chain," he said, referring to his wife, Ryan Michelle Bathe.
By Courtney B. Vance, who won the best actor in a limited series award for the same program: "To the woman that rocks my chain ... this one is for you, girl," he said of his wife, actor Angela Bassett.
And by Steven Moffat, showrunner and executive producer for the Emmy-winning TV movie Sherlock: The Abominable Bride: "My wife," he said. "Not only does she rock — whatever that was ... but she actually produces the show."
For viewers with even a passing familiarity with hip-hop, popular culture, Jay Z or Beyoncé, the line was instantly recognizable from Jay Z's The Black Album, as a reference to his then-girlfriend, now-wife, Beyoncé Knowles-Carter.
For others, it was not. And because these are times when the internet content mill thrives on shortcuts to pop culture literacy, with even the better-known references seeming to warrant explanations for audiences who missed the boat the first go-round, an unironic deconstruction of the lyric was, perhaps, inevitable:
Some Twitter users threw the proverbial side-eye to this need to run every reference through the explainer mill:
But plenty of viewers seemed to enjoy the reference, and pop culture's Human Centipede-like perpetuation of the content-begets-explainer-begets-content cycle has been vindicated once more. Next up: a New York Times trend piece?