Dahir A. Adan named as Minnesota mall stabbing perpetrator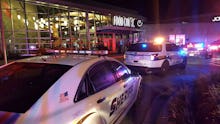 Authorities have identified 22-year-old Dahir A. Adan as the man behind Saturday's stabbings at Crossroads Mall in Minnesota, according to CNN.
Adan allegedly wore a private security officer uniform and made references to Allah as he stabbed nine people. An off-duty police officer, Jason Falconer, fatally shot Adan at the scene. 
At a press conference following the attack, St. Cloud Police Chief Blair Anderson warned against calling the stabbings terrorism — but on Sunday, a news agency linked to ISIS referred to Adan as a "soldier of the Islamic state," according to another CNN report. 
Still, Anderson and federal authorities are wary of jumping to conclusions, with the FBI terming the attacks a "potential act of terrorism."
Anderson told CNN, "We still don't have anything substantive that would suggest anything more than what we know already, which is this was a lone attacker."
Local Muslim and Somali organizations are hoping people don't see Adan — who some outlets identified as being of Somali descent, according to CNN — as representative of their communities. 
"We are also concerned about the potential backlash," Jaylani Hussein, executive director of the Council on American-Islamic Relations's Minnesota chapter, said in a press conference. "We understand in St. Cloud there is more anti-Muslim organizing and we hope they do not use this incident to divide ... our community."
Mohamoud Mohamed, a spokesperson for the Central Minnesota Islamic Center in St. Cloud, said, "We are the victims of those terrorist groups. Islam is peace."